While the news around the third wave of Covid are making the real estate think and watch, the revival period in the last few months showed many positive signs. Increased vaccination compliance, and the fact that the service sector was on the upswing in general in Mohali and Zirakpur, it is a good sign for the commercial real estate market. It includes all those who want to sell or lease out their office space or commercial property for retail and other businesses and service operations.
In a report by Knight Frank India, 2.4 mn sq m (25.9 mn sq ft) of office space were part of real estate transactions during the H2 2021 compared to 1.14 mn sq m (12.3 mn sq ft) in the H1 2021.
Office Space and Commercial Property in Mohali and Zirakpur
The commercial real estate owners in Mohali and Zirakpur are happy to see these numbers as some of the best business complex and industrial parks are coming up in this region, for offices and operations in banking, IT, logistics and warehouse, retail, personal healthcare, consultancy operations such as KPOs and BPOs, and for education. The numbers in the Knight Frank India report below, are encouraging.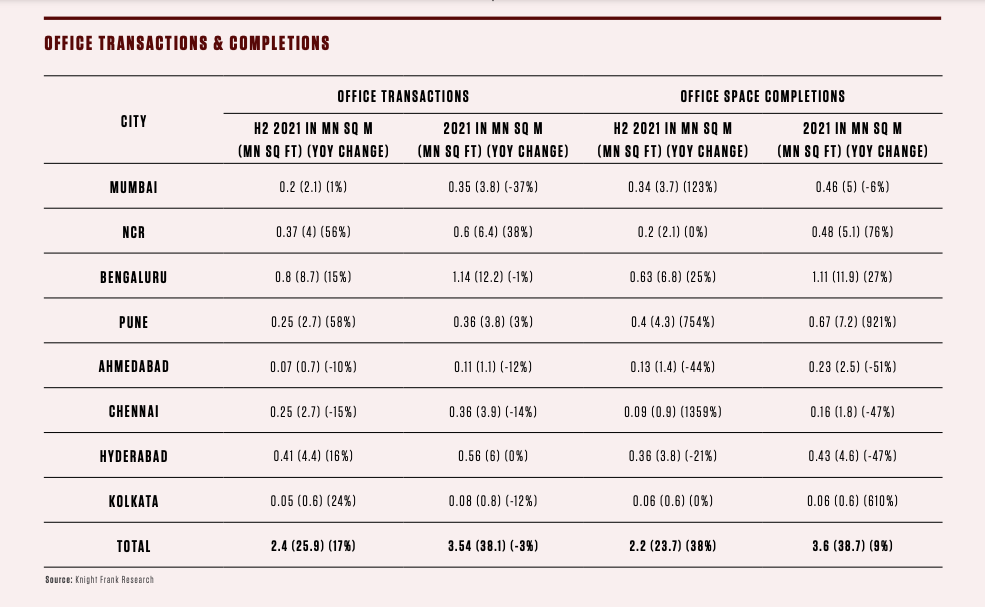 The JLPL project in sector 82 caught everyone by surprise a few years ago and now its success story is a great reference for other upcoming projects in the adjacent areas. Similarly, the JLPL project in sector 94 on the Mohali-Landran road is growing for showrooms and SCO, and commercial projects on PR7 road in Mohali, and on Chandigarh-Ambala road are heavily contributing to the commercial real estate growth in Mohali and Zirakpur.
These are ominous signs for the region's growth in real estate. The investors and the commercial property owners can work on their strategy to set up more mature and organised rental models such as for the warehouses, data centers, entertainment parks for the millennials, or even special education zones.
Tick Property works as advisors and consultants who work with commercial project owners, the real estate supply chain for vendors and operators, and the property buyers and tenants, for a mutual beneficial alliance. If you are looking for anything in this cycle, contact us anytime.