Buy commercial property for showrooms, floors, or showroom plots on PR7 Airport road Zirakpur and on the Airport Road Mohali. You can find fully built-up showrooms, showroom floors, showroom plots, small shops, bay shops, SOHO, and office space for business, consultancy office, or a big company office. Contact us at 9814210011 for the details.
Apart from the builder specific and project specific showrooms, there are options of built up showroom for sale on VIP road Zirakpur, showroom plot on Chandigarh Patiala road, showroom sites on Chandigarh Ambala road, showrooms and floors in Dhakoli, and many others.
Many interesting commercial property projects are coming up in Zirakpur on PR7 road, on Chandigarh-Ambala road, Chandigarh-Patiala road, on Airport Road Mohali, and in adjoining locations in Mohali and Zirakpur. Some of these include:
La-Mer on PR7 airport road Zirakpur
HLP Social Square, Chandigarh-Patiala road, Zirakpur
Showroom plots in sector 102A, airport road, Mohali
Showrooms and DSS (Double Storey Shop) in sector 66A, airport road Mohali
Guildford Square, PR7 airport road Zirakpur
Showrooms in TDI, sector 118, airport road, Mohali
Medallion showrooms—commercial property sector 68, Mohali
La-Mer, PR7 Airport Road, Zirakpur
Le-Mar provides you independent showrooms and plots on PR7 airport road Zirakpur at the best possible location in Zirakpur. it is situated on the triangular intersection of Chandigarh-Delhi road with airport road Zirakpur. It makes this project an excellent commercial property investment option for the branding and visibility, and the footfall for the property returns.
Some of the leading brands have their stores and outlets very near to the Le-Mar project including McDonalds, Burger King, Decathlon, DMart, Starbucks, and a few others. The shworooms and plots are in the following size:
16.5 x 70 ft.
16.5 x 46 ft.
12.5 x 55 ft.

The project has 63 plots. There is a two-way entry—one is the main entry on the 200m wide PR7 airport road and there is an alternative entry on the ChhatBir Zoo road, immediately next to the DMart store.
HLP Social Square, Chandigarh-Patiala road, Zirakpur
HLP Social Square is a commercial project that serves you for your retail business, corporate offices, and for entertainment and food. The project has AC shops for small businesses, bay shops, SOHO, and retail showrooms as well. The size of different space are:
Lower ground: 15 x 70 ft.
Upper G: 15 x 70
First floor Bay Shops: 15 x 31 ft. (692 sq ft)
Second floor AC Shops: 15 x 13.5 (359 sq ft)
SOHO 13 x 27 (539 sq ft)
Showrooms plots in TDI, Sector 118, Airport Road Mohali
TDI is redefining the commercial space in Mohali with optimum luxury and strategic design for the retail footfall, and for the best returns on the investment in commercial property. The project is well designed if you are looking for a mix property for retail and office in commercial real estate, in Mohali.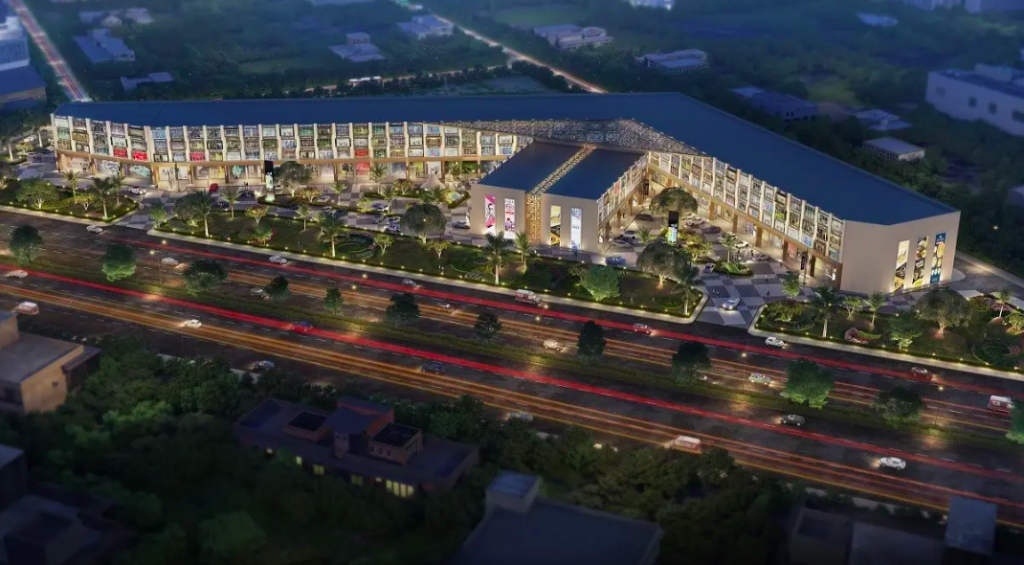 Built up showrooms and showroom plots
18 x 100 (1800 sq ft)
18.5 x 60 (1110 sq ft)
DSS, Double Story Shops: 30 x 10 ft (300 sq ft.)
Le-Mar is one of the best commercial property in Zirakpur for investment because of its location on the triangle that connects the Chandigarh-Delhi highway to the Airport Road Zirakpur.
Medallion commercial project—showrooms in sector 68 Mohali
Medallion brings an independent commercial project for SCO and showrooms in sector 68, near the MC Office Mohali. The project is in the center of city, and some of the commercial property project highlights are:
Ground floor + basement + 1st Floor

150 ft. wide road
Lift available
Located at the center of the city.
Easy investment plans
Guildford Square, PR7 Airport Road Zirakpur
Guildford Square is an upcoming commercial retail space by Motia Group, on the PR7 Airport Road Zirakpur, Mohali. The project is designed for a futuristic design for maximum footfall and the best shopping experience for the consumers in the region.
Being on the Airport Road Mohali, the Guildford Square offers on road shopping, and entertainment experience to all the commuters and travellers from Delhi and Chandigarh-Delhi highway, to Mohali and major hill stations in Himachal Pardesh and even Jammu and Kashmir.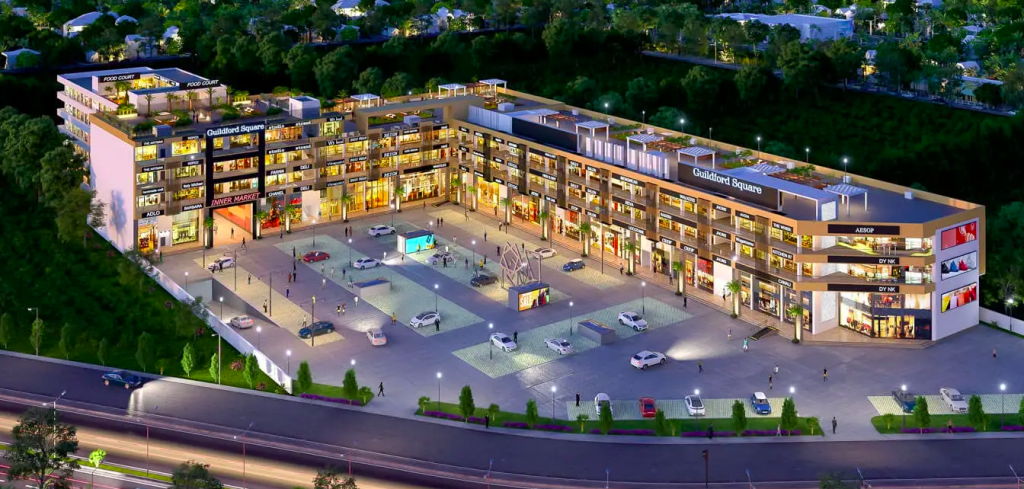 Showrooms on ground floor
18 x 80 ft, (1440 sq ft.), 23.5 feet double-height, with basement
18 x 70 ft, (1260 sq ft.), 23.5 feet double-height, with basement
Showrooms on first and second floors: 18 x 83 ft. + balcony (1548 sq ft.)
Bay shops
Ground floor: 10 x 23.5 ft.
First and second floors: 10 x 23.5 + Balcony
Jubilee Junction—Showrooms on Airport Road, sector 66, Mohali
The Jubilee Junction is a promising commercial property project on the Airport Road Mohali, in sector 68, with retail showrooms and DSS, Double Story Shops. The project layout shows the pedestrian friendly facade which means ample walking space for the consumers and the public when they enter and then navigate around spaces.
Jubilee junction has an exclusive lane of shops for sale in Mohali, and the entire project is available at the best location in this region because it is near to the ISB, Sector-81, NIPER, Sector-67, IISER, Sector-81, Ryan International School, Sector-66, Bestech Mall, Sector-66, the Bestech business towers sector 66.
Highlights
3 Side open site on the airport road Mohali, facing the huge residential area of sector 66
Excellent location on the junction of sector 66, 67, 80 & ISB Mohali, sector 81
Showrooms and DSS size options
G+3 SCO: 18 x 90 ft. (180 sq yds), with some options of 203 yards too
G+3 SCO: 16-6′ x 66 ft. (121 sq yds)
G+1 DSS: 14 x 39-4′ ft. (61.2 sq yds)
G+1 DSS: 12-9′ x 30 ft. (42.5 sq yds)
G+1 DSS: 12-9′ x 30 ft. (40 sq yds)
The Airport Road right from Zirakpur to Mohali towards Kharar are the new commercial property thriving zone in North India. After the huge growth in Aerocity projects for showrooms and office space business center, there are many new projects that are coming up in the region.
Contact us at 9814210011 for the details.
See more categories of properties