Most of the commercial real estate projects in office design are conventionally designed around the tenant experience for the facilities, access, security, navigation, vehicles, and access to adjacent requirements of the occupants such as restaurants, retail, wellness, entertainment, and so on.
The pandemic forces the businesses worldwide to adapt the remote or hybrid work models. Since it directly impacts the landlord-tenant relationship for the leasing structure, the commercial real estate owners are rethinking their product design strategy.
CBRE has published a detailed and insightful report on how hybrid work is changing the commercial real estate business strategy. It impacts the project for the entire project cycle right from planning, design, transaction, product positioning, and the property maintenance.
This is the right time for commercial property owners to embrace technology to bring more structure, compliance, and order in how they plan and run big projects.
They can invest in market research for the data points on the frequency of office visitors by the occupants, their guests and visitors—the building's support staff in security and support. These data points guide them in design and architecture for the right access and navigation requirements, security, privacy, wellness zones, and other community activities.
In this CBRE post, they share a real story of how CBRE helped a European technology company adopt a hybrid work model. "The net result was a hybrid-work plan that delivered improved organization's culture, greater team productivity and a 21% reduction of the company's real estate footprint." says the report.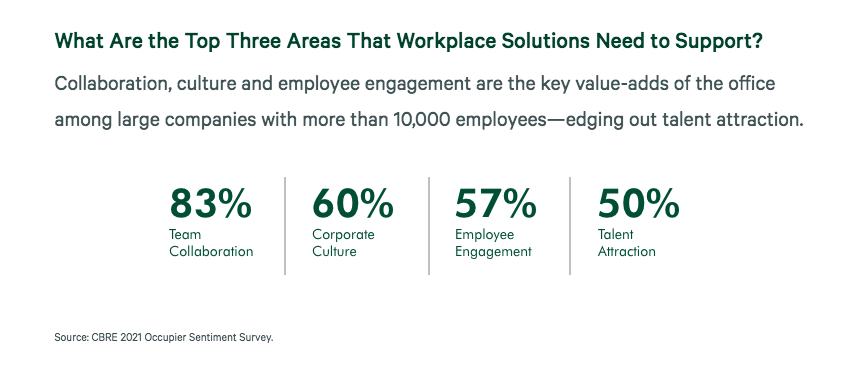 Commercial real estate on the Mohali Airport Road
The fast growing commercial real estate projects in Mohali Aerocity and on the Mohali Airport Road are a great opportunity for project owners investors. Tick Property works with commercial real estate owners on the strategy, design, leasing, and for the onboarding and operations in running a successful landlord-tenant relationship.