The way we plan our shopping, pay bills, find doctors or consultants, plan entertainment, and hire vendors is changed, thanks to access to technology in our hands. People carry the same habits when they want to search homes or a commercial property, and it is surprising that the Indian real estate project owners and supply chain have not embraced technology for their strategy, operations, analysis, or project design.
The real estate industry can really grow for the right consumer sentiment and a lot faster if they adopt technology. Imagine how shopping websites recommend you some products on the basis of your past shopping or internet browsing experience—data plays a huge role in this cycle.
Real estate can really build on this data to find insights about industry trends, customers' buying behaviour, their spending trends, their lifestyle and social orbits where they spend time, their vision of good property, and a lot more. As project owners, you can plug the gaps in vendors supply chain for inventory, procurement, budgeting, payments, operational efficiency, faster go-to-market goals, and for project maintenance.
A JLL report on Proptech in India
Technology adoption does not happen in responding to a request for proposal. it starts much earlier, by realizing why it is important and how it helps. A JLL report on PropTech lists following technologies that can change the face of real estate projects planning for good, forever.
Graphene: Graphene is a single layer of tightly packed carbon atoms arranged in a honeycomb lattice. Graphene-strengthened concrete has the potential to achieve higher strength and impermeability with less material than traditional concrete. It reduces the environmental footprint of construction projects.
Martian Concrete: After adjusting for the gravity of Mars, researchers have found that this Martian Concrete has the strength equivalent to everyday concrete here on Earth. Martian Concrete is highly resistant to corrosion and currently used for non-structural applications such as plumbing and landscaping.
Hypercells: Hypercells have the potential to create robotic moving buildings that could transform spaces in a matter of seconds. It will allow for a building to continuously function at its highest and best use. Hypercells could also potentially enable the selfconstruction of buildings.
The above examples are directly taken from the JLL report, please see the report for more details.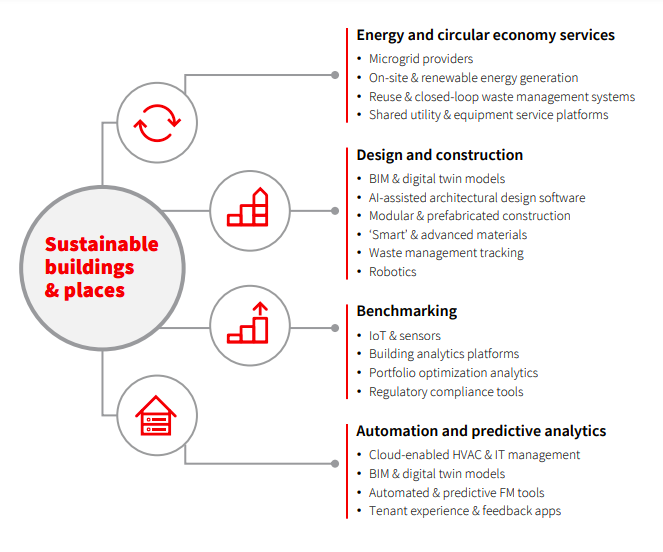 In September 2021, CBRE India shared a research report on Proptech in India, towards 2030. It means that the technology acceptance is building up gradually. Many real estate companies and builders are using CRMs. They have dedicated digital marketing teams for digital campaigns, and their architects use technology for advanced models of their projects. However, the technology is still very fragmented and is at very early stage in real estate life cycle.
Proptech in Mohali and Zirakpur real estate
There are many new and upcoming projects near the airport road Mohali and Zirakpur that offer world class residential experience and commercial property projects for the property buyers. If the developers and their vendors adopt technology, they can really accelerate their project delivery, and more closer to the what the customers actually need.